CNC wire forming allows us to create precision wire parts of virtually any shape or size, whether muffler hangers or other exhaust hangers, strikers, ISO fix wires or other specialized fasteners for Automotive, Lawn and Garden, Medical Manufacturing, Agricultural and other OEM companies.
The capabilities of our CNC wire forming process, as well as other wire services, include:
CNC Wire Forming
Diameters of .236 to .551″ (6-14mm)

Chamfering and cold heading
Multi-slide Forming
.250-.500″ (6.35-12.7mm) diameter capacity

Multi-axis machine providing high volume efficiency
Electric Resistance Welding (ERW) refers to a group of welding processes, such as spot and seam welding, that produce coalescence of faying surfaces. Heat to form the weld is generated by the electrical resistance of material vs. the time and the forces used to hold the materials together during the welding.
Small pools of molten metal are formed at the point of most electrical resistance (the connecting surfaces) as a high current (100-100,000 A) is passed through the metal.
We are capable of performing the following welding processes:
Stamping to Stamping Assembly
Robotic arc welding is an efficient, high-quality automated fusion process in which a welding power supply transmits electricity, via a welding torch from an electrode to the base metal, in an arc that generates sufficient heat to melt the metal at the joint.
The resulting fusion bond has the same strength as the original metals, duplicating their mechanical and physical properties.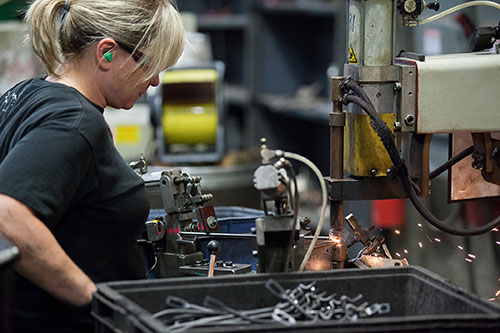 Press operations include many secondary processes including bending, coining, piercing and forming of metal products. We use both mechanical and hydraulic presses, depending on part type.
Progressive stamping is a metalworking method that encompasses punching, coining, bending and several other ways of modifying metal raw material. We then combine these processes using an automatic feeding system.
Capability up to 200 tons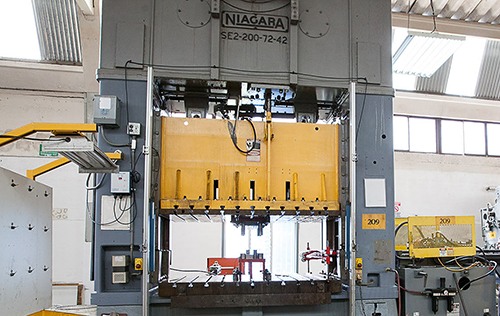 Cold Heading alters the shape or size of a metal by extruding and heading in certain sections along lengths of wire or rod stock, causing the material to flow between the dies. Hardness and tensile strength are increased with the degree of cold work.
Our hand feed and automatic cold heading machines have the capacity to handle materials of the following sizes:
1/4″ to 1″ diameters (6.35 – 25.4mm)

1″ to 96″ long (25.4 -2438mm)
Applications
Cold heading is most commonly used to manufacture muffler hangers, strikers, ISO fix wires and other types of specialty products.
Diameters up to 1.38″ (35mm)

Presses ranging from 10 ton to up to 1500 ton

Coining, Bending, Piercing and Trimming